We show you how to configure or change the controls in Mugen for any game, super easy and works in any Mugen game.
Just follow this simple tutorial that will take you a minute.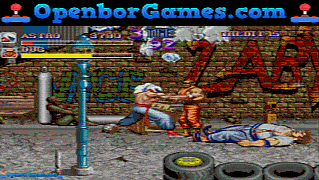 Steps to configure the controls in Mugen
Run the Mugen game and select Options from the main menu. Most of the time this is done by pressing the arrow keys or with the traditional W,S,A,D and the Enter key.
Now scroll to the Input Config option by using the keys mentioned above or by pressing the F1 key as indicated on the side of Input Config.
Here you can select the controls to be configured first for player 1 and player 2, and you can configure both in the next screen.
After selecting the one you are going to configure it will first show you the controls that are currently configured, you will see the keys of both players. You can see them and if you like leave them as they are and use them or modify them by pressing the Enter key or the same F1 and for player 2 it is the F2 key.
When you press the key to modify the controls, the menu is automatically activated so that you can change the keys one after the other until you finish modifying the whole list, it is NOT necessary to scroll to the key you are going to change because when you press the first key it is saved and the system goes down to the next one sequentially. You only have to press one after the other the one you are going to place and that's it. It is the same with both players.
Once changed or noted if not changed, press the ESC key or scroll to the bottom and select Exit.
Press the ESC key again to go back to the options menu and scroll to the Load/Save option and with the movement keys press left or right to change to Save and press the Enter key or the one you configured instead so that the controls are saved and saved every time you start the game so you don't have to change them again if you don't do it you will have to change them every time you run the game again.
And that's how easy it is to configure the Mugen controls, as it will only take 1 or 2 minutes to modify them.
Video
Important
Remember to always create a backup copy of the files before modifying them. In case you make a mistake you can get back the original file that you copied at the beginning before being modified.
If you have doubts, something to contribute or some correction that we overlooked you can leave it in the comments so everyone can help and learn.